I recently started a new gig as an school SLP in Chicago, and the stories have started rolling in.
Today, as I'm introducing myself to kids in a second grade class, I find one of the kiddos on my caseload. I say "Hi, I'm Miss Allie, what's your name?". He says, "My name is Henry". His friend was standing behind him and yelled "NO HE'S NOT HIS NAME IS xx". And I, as I'm staring at his nametag and have already been told by the teacher that it is him, say "you know what, I'm pretty sure you're xx". He says with HUGE eyes and a big whisper "HOW DO YOU KNOW". "Well, it says right there on your shirt!" "OH WOW."
AWESOME.
Hogewey, located in the Netherlands, is the only care facility of it's kind in the world and is home to over 150 people with severe dementia.  Started by 2 nurses who feared having to put their own parents in a traditional nursing home, 'Dementia Village' (as it has become known) is a place where
Your Sunday afternoon is spent taking pictures of your mouth in different articulatory postures to improve carryover practice for a client!
Oh goodness gracious what is growing in my bathroom?! #slp
"Some of these are total guesses. Educated guesses, but guesses nonetheless. Seems like it's hard being a kid.

His sock is on wrong.

His lip tastes salty.

His shirt has a tag on it.

The car seat is weird.

He's hungry, but can't remember the word "hungry."

Someone touched his knee.

He's not allowed in the oven.

I picked out the wrong pants.

His brother looked at him.

His brother didn't look at him.

His hair is heavy.

We don't understand what he said.

He doesn't want to get out of the car.

He wants to get out of the car by himself.

The iPad has a password.

His sleeve is touching his thumb.

He doesn't understand how popsicles are made.

The inside of his nose stinks.

Chicken is gross.

A balloon he got six months ago is missing.

A puzzle piece won't fit in upside down.

I gave him the wrong blue crayon.

The gummi vitamin is too firm.

Netflix is slow.

He jumped off the sofa and we weren't watching.

He's not allowed to touch fire.

Everything is wrong with his coat.

There's a dog within a 70 mile radius.

A shoe should fit either foot.

I asked him a question.

His brother is talking.

He can't lift a pumpkin.

He can't have my keys.

The cat is in his way.

The cat won't let him touch its eyeball.

The inside of his cheek feels rough.

Things take too long to cook.

He has too much food in his mouth.

He sneezed.

He doesn't know how to type.

The DustBuster is going to eat him.

His mom is taking a shower.

Someone knocked over his tower.

He got powdered sugar on his pants.

The yogurt won't stay on his spoon.

EVERYTHING IS TOO HOT."
And folks, this is why early intervention and language therapy is so important to our society. How else are we going to teach them how to tell you that the inside of his nose stinks!?
This is such an important piece to share. Heart of the Ravens, an amazing story about a Baltimore (<3) Raven's player living with ALS. 
Hello, and welcome to the madness, I'm glad you're here!
http://soniavalentine.tumblr.com/
http://acousticlullaby6.tumblr.com/
http://jumpersforweasleys.tumblr.com/
http://honestly-christina.tumblr.com/
First week went well. Far better than I expected. I have one home health pt right now- primarily Polish speaking, dysarthria (it's a very strange but awesome feeling the first time you independently and correctly diagnose someone with flaccid dysarthria), diabetic/vascular complications, facial paralysis. I love him, we get along well even though I barely know a lick of Polish. I'm sorry I'm doing you a disservice, Polish roots, but I'm learning! Two days at nursing homes and long term care facilities, it was a good week. I love oldies. I'm eval-ing a dysphagia home health pt sometime next week, he's 96 yrs and not complying with his mech soft diet. Mr. Grandpa, please don't choke, but you're so old you deserve to eat all the steak and cheesecake and thick crusty bread you want. 
Moment of the week: After working with a spanish-only speaking pt (meaning, NO understanding of English) for about 30 minutes and accidentally offending her (I think, I was trying to tell her my Spanish was very bad in broken Spanish, and I think I miscommunicated and told her she was bad. I still don't know what I said. Whoops, like I said, learning!!), I needed more time with her so I found her in her room taking a nap. 10 minutes of trying oral motor exercises, broken conversation, call-and-response repetition she starts yelling "no therapia! no terapia! Dormir! Dormir!" and rolls over and falls back asleep. At the time, all I could think of was "oh my gawd. Medicare is gonna kill me" but now I can't help but laugh.
And something cute.
How is everyone? How is you?
Cognitive Rehab! This is amazing- must remember to download all of these.
http://www.asha.org/Publications/leader/2012/120703/APP-titude—Apps-for-Brain-Injury-Rehab.htm
APP-titude: Apps for Brain Injury Rehab
Traumatic brain injury (TBI) happens in an instant, and the effects can last a lifetime. Fortunately, through rehabilitation advances, most people with TBI can recover much of their communication and other cognitive functioning.
No part of that recovery process is easy, but smartphone and tablet technology can make each step more efficient and accessible. Here are more than 40 apps to help clinicians, patients, and families, from initial assessment through community reintegration.
GET TO WEAR A LAB COAT!!!!!!!!!! How very M.S CF-SLP of me. As always, overly excited about the little things :D
For all my (new) speech related friends out there, I just wanted to reach out, say hello, and give a little update and background. Thanks for following, I'm excited to see you!
I just graduated with my masters in SLP in May from a school in Maryland, and moved back home to Chicago to do my CFY. I'm currently waiting for my license to go through (IL takes forever, suckers), and to become certified in Early Intervention (EI, can't submit that application until you have your license number in hand. Oy! OY, I say!). I'm doing things a little differently- instead of your typical school vs hospital CF, I loved both populations and wanted to continue working with them so I sought out a more flexible position. I'm currently contracted through two private practices (totally unrelated, and very different from each other), one being primarily EI (which will be my full time placement), the second being adult rehab focused on home health care (part time, per diem, as needed, whatever my caseload will allow). I started my home health one this week (just scheduled my first eval. Yipes!) (IL allows you to practice for 120 after your license application has been submitted and received without needing it in hand). My grad school externship placements were at a nursing home, small private school for "preschoolers" with severe autism and/or emotional/behavioral disorders (caseload was 23! nice!), and an outpatient rehab center. 
(I don't know this kiddo, thanks Google, but oh my goodness what a cutie)
I'm way excited to start, a whole heck of a lot of nervous, still can't believe I'll be getting a paycheck. Solid foundation, room to learn, conferences to attend, people to bounce ideas (and things) off of.
Segue: Here's a resource I found (printed both out to use as reference and during therapy/as home education components). Dysarthria, and an alphabet board. Who doesn't need an alphabet board?
http://www.icommunicatetherapy.com/resources/downloads-centre/document-downloads/cat_view/40-progressive-neurological-diseases
I can't wait to check out this site more indepth. ly?
Please feel free to follow, add, make fun of, ask questions, share resources, do handstands, any and all of the listed. I'd love to hear your story. So, tell me, where are you on your SLP path?
Also, I'm trying to get better at tagging posts and keeping organized. Any suggestions?
---
For Immediate Release
Thursday, June 21, 2012
Contact:
Robert Bock
 or Marianne Glass Miller
301-496-5133
For young children with autism, directing attention boosts language
NIH-supported study confirms that pointing, gestures to focus attention improve later language
An intervention in which adults actively engaged the attention of preschool children with autism by pointing to toys and using other gestures to focus their attention results in a long term increase in language skills, according to researchers supported by the National Institutes of Health.
At age 8, children with autism who received therapy centered on sharing attention and play when they were 3 or 4 years old had stronger vocabularies and more advanced language skills than did children who received standard therapy. All of the children in the study attended preschool for 30 hours each week.
"Some studies have indicated that such pre-verbal interactions provide the foundation for building later language skills," said Alice Kau, Ph.D., of the Intellectual and Developmental Disabilities Branch of the Eunice Kennedy ShriverNational Institute of Child Health and Human Development (NICHD), the NIH institute that supported the study."This study confirms that intensive therapy to engage the attention of young children with autism helps them acquire language faster and build lasting language skills."
First author Connie Kasari, Ph.D., of the University of California, Los Angeles (UCLA), conducted the research with colleagues Amanda Gulsrud, Ph.D., Stephanny Freeman, Ph.D., Tanya Paparella, Ph.D., and Gerhard Hellemann, Ph.D.
UCLA is one of 11 institutions that receive support from the NIH through the Autism Centers of Excellence Program.
The study findings appear in the Journal of the American Academy of Child and Adolescent Psychiatry.
The 40 children who participated in the study were 8 and 9 years old. Five years earlier, they had been diagnosed with an autism spectrum disorder and received the intensive therapy program or standard intervention, as part of a separate study.
The researchers assessed the children's vocabulary, language, and other cognitive skills. They then compared the results of these assessments to those taken when the children were 3 and 4 years old. The earlier and later assessments also included measures of the child's ability to initiate interactions with adults, the variety of the child's play, and the quality of interactions with a parent.
The researchers found that children who started the attention-focusing therapy earlier had more advanced linguistic skills at age 8. Those who learned to point or direct an adult's attention to an object of interest at age 3 and 4 also developed more advanced language skills when they were 8. And children who showed greater flexibility in playing with objects at age 3 or 4 demonstrated better memory and other cognitive skills at age 8.
"Our findings show that therapy focused on such basic skills as pointing, sharing, and engaging in play can have considerable long-term effects as children with autism spectrum disorders grow and learn to express themselves with words," said Dr. Kasari.
About the Eunice Kennedy Shriver National Institute of Child Health and Human Development (NICHD): The NICHD sponsors research on development, before and after birth; maternal, child, and family health; reproductive biology and population issues; and medical rehabilitation. For more information, visit the Institute's website athttp://www.nichd.nih.gov/.
About the National Institutes of Health (NIH): NIH, the nation's medical research agency, includes 27 Institutes and Centers and is a component of the U.S. Department of Health and Human Services. NIH is the primary federal agency conducting and supporting basic, clinical, and translational medical research, and is investigating the causes, treatments, and cures for both common and rare diseases. For more information about NIH and its programs, visitwww.nih.gov.
Initially from http://www.nih.gov/news/health/jun2012/nichd-21.htm#
Here's an article about musical pacifiers helping preemies!
http://www.growingyourbaby.com/2012/05/23/musical-pacifiers-to-help-preemies-get-healthier-sooner/
Music definitely has healing powers. Researchers at Florida State University have announced a new musical device that can help preemies quickly learn the important muscle movements needed to suck, which can reduce their ICU stay.
Babies born prematurely have many hurdles to overcome before they can actually be cuddled in their mom's arms. Sometimes even the seemingly natural instinct of breast feeding is a difficult challenge for these fragile infants. But now researchers have created an innovative device called the Pacifier Activated Lullaby (PAL), which can aid these infants.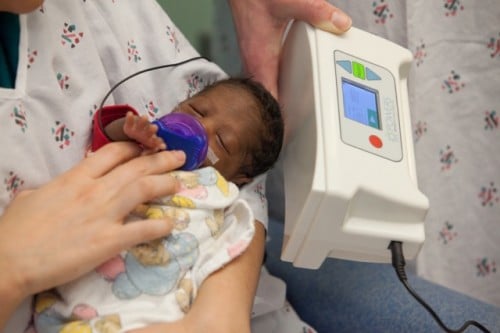 PAL uses music reinforcement to help infants quickly learn the muscle movements needed to suck, and ultimately feed. Studies have shown that PAL can reduce the length of a premature baby's hospital stay by an average of five days.
"Unlike full-term infants, very premature babies come into the world lacking the neurologic ability to coordinate a suck/swallow/breathe response for oral feeding," said Jayne Standley, Florida State's Robert O. Lawton Distinguished Professor of Music Therapy and inventor of PAL. "The longer it takes them to learn this essential skill, the further behind in the growth process they fall. PAL uses musical lullaby reinforcement to speed this process up, helping them feed sooner and leave the hospital sooner."
The idea of PAL is simple. It has a specially wired pacifier and speaker that plays a gentle musical lullaby whenever a baby sucks correctly. The lullaby is soothing to the baby's ears and therefore in order to hear it again and again, the baby tries to suck correctly.
Clinical studies conducted by Standley at Tallahassee Memorial Hospital (TMH), University of Georgia Hospital in Athens, University of North Carolina Medical Center in Chapel Hill and Women's and Children's Hospital in Baton Rouge, La., showed that preemies who were given the musical reinforcement had 2.5 times better sucking rates than those who were not played the music.
"It's amazing to watch how much quicker our babies are able to learn the sucking motion after they have used PAL," said Terry Stevens, a neonatal intensive-care unit (NICU) nurse at TMH. "They are ready to eat sooner, they go home from the hospital earlier, they tolerate their feedings better; it's just a phenomenal improvement overall."
The device is now being sold around the world to hospitals through a partnership with Powers Device Technologies Inc. Jayne had invented the device 10 years ago. It went through a number of tests and has now been given a US patent and approved by the FDA.
"After years of research and clinical studies to prove how effective this technology is at solving developmental issues in preterm infants, we are thrilled to be working with Florida State University to bring PAL to market," said P. Kathleen Lovell, president and CEO of Powers Device Technologies. "PAL truly merges science and art to improve the lives of premature infants. It will make a huge difference in the standard of medical care preemies receive in the NICU."
The number of premature births has gone up 36 percent since the 1980s and worldwide there are many infants who spent weeks and sometimes months in NICU to overcome their initial developmental challenges. It is definitely music to the ears of parents to have a device like PAL that can help their babies become stronger.
"Many of these babies undergo daily medical procedures that, while necessary, result in added stress, pain and anxiety for the infant," Standley said. "Using a device that actually gives them comfort while they learn an essential life skill is a valuable complement to NICU care."
Man, this was a slightly stressful term. Still going strong, now that the 10-week classes are over and we're moving on to electives. I'm so stoked for trach and vent, pediatric dysphagia, and craniofacial abnormalities- I only wish I could take head and neck cancer and the other electives too. 
Now I can focus on comps and working through my outpt placement [digging on aphasia and apraxia/CVA stuff so much, still. Reinforced my love of the population. I think babies and I may get along, too :)]
Is graduation really in ~<2 odd months? Am I really going to be a master of speech language pathology? Is this real life?
This was not a sassy post. It was a pretty run-of-the-mill life post. World, my reblogs are what I wish I were living, but it's mostly yoga and words and the inside of my car. Too much time to think, too much time spent driving to semi-fascinating places. 
GOTTA GO PACK MY LUNCH!
Aphasia, from a child's perspective